WVU Public Health faculty member provides healthcare leadership to global audience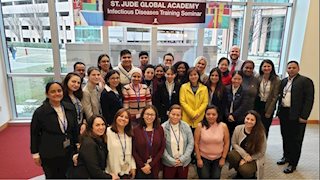 With a global reach of more than 40 countries in one year, a WVU Public Health expert is helping fight childhood cancer and other life-threatening diseases through healthcare leadership training.
In 2018, St. Jude launched "St. Jude Global," a $100 million investment in global outreach and education. Erik Carlton, DrPH, who serves as associate professor and associate dean for professional programs at the WVU School of Public Health, is helping to implement the program by providing on-site and virtual training sessions in healthcare leadership.
St. Jude Global brings clinical leaders from their international partner organizations to a two-week residential program in Memphis, TN. They offer two academies – one for infectious disease professionals and another for general pediatric oncologists. Carlton provides leadership components during the clinical training, covering exemplary leadership practices, managing change and innovation, and team building and collaboration.
"Ultimately, we are helping them build health system capacity and performance in their communities and countries."

- Erik Carlton
"Some of the St. Jude Global participants are responsible for multiple systems or for their entire country's approach to pediatric oncology or infectious disease," Carlton said. "My training sessions are part theoretical knowledge building and part skill development. Ultimately, we are helping them build health system capacity and performance in their communities and countries."
St. Jude Global is an initiative to improve access to care to children with cancer and life-threatening blood diseases in every corner of the world. The initiative aims to form a global alliance of institutions focused on reducing this gap worldwide through the sharing of knowledge, research, technology and leadership. The program has now trained physicians, nurses, infectious disease specialists, and other healthcare leaders from 44 countries around the world (see map).
Carlton joined WVU School of Public Health in August 2018 as part of the School's continued focus on leadership and innovation in education.
Prior to joining WVU, he spent six years on the faculty at The University of Memphis School of Public Health, where he directed the school's nationally ranked Master of Health Administration program, guiding it to two national awards for innovations in healthcare management education and leadership development. Having lived internationally in both France and China, Carlton has a strong presence in global healthcare leadership development.
His research focuses on healthcare and public health leadership and the integration of healthcare and public health systems. Carlton has published and presented his scholarly work nationally and internationally and is the author of three books about public health and healthcare leadership. He teaches in the areas of healthcare leadership, population health management, healthcare quality and outcomes, and health systems organization; and has additional expertise in behavioral health, women's health, and rural and Appalachian health.
CONTACT: Kimberly Becker
WVU School of Public Health
304.293.1699; Kimberly.Becker@hsc.wvu.edu