WVU Cancer Institute holds 34th Annual Gala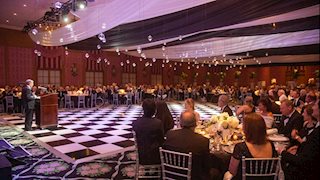 Record-setting crowd attends two-day event
MORGANTOWN, W.Va. – The WVU Cancer Institute held its 34th Annual Spring Gala at The Greenbrier Resort April 26-27.
The two-day gala began on Friday with "An Evening in New Orleans" reception, featuring jazz music by Benny Benack and cuisine from New Orleans Chef John Folse and The Greenbrier. Saturday's events included a morning 5K run/walk, culinary demonstrations by Folse, and a jewelry show featuring the work of Joan Stamp of Wheeling. The weekend culminated in the Black and White Ball.
The event, chaired by Laurie Erickson, had a record-setting attendance of 502 people and raised $933,619, including $273,275 earmarked for Fund the Mission, which supports the WVU Cancer Institute's greatest needs as determined by its director. This year, Fund the Mission was dedicated to the memory of Jeanne G. Hamilton, a long-time supporter of the Gala.
"The Gala gives us the opportunity to show our gratitude to our donors and share our accomplishments in the fight against cancer," Richard Goldberg, M.D., WVU Cancer Institute director, said. "Cancer is the second leading cause of death in the state, and the funds we receive each year help us in our work to change that statistic and move forward to find better ways to treat cancer."
In the last year, the WVU Cancer Institute celebrated the opening of the expansion of the Mary Babb Randolph Cancer Center, which added patient exam rooms, administrative offices, and additional infusion bays. The expansion allows providers to address increasing patient volumes.
Presenters for the weekend included Goldberg, Lori Hazlehurst, Ph.D., associate director of basic research; Mark McLaughlin, Ph.D., professor of medicinal chemistry; and Malcolm Mattes, M.D., radiation oncologist.
Keynote speaker, Rebekah Gee, M.D., secretary of the Louisiana Department of Health and daughter of WVU President Gordon Gee, spoke on preventing disease, prolonging life, and promoting human health. She used her experience working in public health in Louisiana to draw parallels with issues affecting patients in West Virginia.
For more information: Heather Sammons, Communications Specialist, 304-285-7256